Martial Arts Talk – Dedicated to our good buddy Al Sussman!

Happy winter 2005!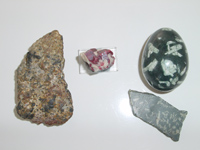 This article will shed some light on the reflectivity process of the properties of stones, minerals and gems used in martial arts. Stones are the oldest 'worshiped' thing in human history. In past columns I have shared bits and pieces of the history of stones. Martial artists of old were often also shaman. They were well versed in alchemy, magic, mesmerism, magnetism and other occult sciences. These martial shamen were the elite in a local village. The shaman was usually well versed and able to channel intelligently, the effects of strong opiates, speed effect herbs and psychedelic or hallucinogenic herbs; the oldest group being fungi, were used by the Vikings before their raids on land. Science recognizes the placebo effect and some including myself consider it the faith factor. In a strange way, science itself is proving the positive effects of positive thinking, based on the concept of faith that we indeed live in a loving orderly universe. Since we need to survive on basically faith and courage, trials and tribulations are a blessing to hone our faith and courage. We can choose thought by thought, whether we want love or fear. Love is the dominant force and demands courage and faith as a worthy price. Martial arts are based on Daoist concepts of qi. That said, it takes the study of herbs to make an art 'internal.' In Chinese herbology, stones, minerals and gems are included. This article will take a part two at least, to cover the notes I took from Blavatsky's two volume Secret Doctrine and Isis Unveiled. While somewhat a step down from The Urantia Book, I needed the source of this hidden pagan knowledge, wisdom and truth.

Recently a rabbinical 'post graduate' seminarian nearing 60 contacted me to give his opinion concerning some of my statements in past articles confirming my views with his interpretation as well as sharing some insights about the use of stones for health and combat taught to the oriental missionaries studying under Melchizedek in Salem; now called Jerusalem, 4000 years ago. This was the revival point of the One God concept.

Below is Yaakovi's comments that relate to this article on my use of healing stones during certain meditations for their healing properties and martial properties.

"Near the end you mentioned something that caught my attention and prompted me to share something with you. You said, "Remember that most of the highest concepts of Daoism merely trace to the school of Salem, (now called Jerusalem,) four thousand years ago when mainstream history really started after almost losing the One God concept. These are only my deductions from my studies and common sense."

Our sages teach us from the verse 6 of chapter 25 book of Genesis, that this verse is coded to remind us of unwritten teaching that Abraham taught these other sons whom he sent to the East; secrets of medicine (herbal, mineral, energy and gemstones,) sciences, spiritual-connection meditation and metaphysical sciences as an exercise system that encompassed physical and non-physical energy for health and war. These are mentioned in various ancient Kabalistic teachings yet much of the knowledge that Abraham had and had been handed down from generation to generation was purposely put into holding by King Ezekiel; (medical formulas,) and the rest by sages at the time of the destruction of the second Holy Temple. The time programmed for rediscovery was partly at 1,000 years after the destruction, which was when the Holy Zohar was discovered. The rest was to be discovered in another 1,000 years, which is NOW.

Notice also that when Abraham went to rescue Lot he had a very small army; how did he conquer the combined armies as he did? He was armed with power to perform miracles. Among them was to call upon Angels to battle for him, and the power to turn sand which he tossed in the air into multitudes of flying guided spears.

By the way, Abraham is said to have had a special healing gemstone that he used for everyone but himself. For himself he used only his faith and personal prayer discussions with God. The gemstone was the one that Noah hung by the roof of the Ark to give light when there was no way to get in light from the sole window during the rains.

So what you felt is really on target, good going!
Best thanks and blessings,Yaakov Bar-Naman

Origins of Worship

Worship of Stones and Hills

The Kateri people of southern India still worship a stone as do many tribes in northern India. Jacob slept on a stone because he venerated it; he even anointed it. Rachel concealed a number of sacred stones in her tent. The natives appreciated how they suddenly appeared on the surfaces of a cultivated field or pasture, as well as their frequent resemblance to animals. Meteors were most profound, and the ancients took it as a sign of the marked passage of a spirit on its way to earth. I was personally trained by a Navaho Indian Medicine Man. I know what the Navaho religion is all about and am well schooled in the traditional apprenticeship of learning 'the medicine.' Under the medicines influence I was able to see benevolent mighty ancient chiefs follow me for hundreds of miles, their faces hidden to all but the initiated. That is another story that could take a whole column or more. As for meteor experience, I meditate with one that fell on China. We figured it was about a few hundred years old and may have been one discovered by many Chinese shamen, who helped make coins of the material that were also used in Chinese medicine. I have another that is very rare and looks like glass with a rough and smooth section, colored a translucent medium light green…near gem quality! I studied the Hawaian Art of Elua Lima for a few years in the late 70's. Just recently I came across a theosophical masterpiece of hidden kahuna talismans and healing stones. I will share the esoteric Hawaiian kahuna culture in a separate column.

Back to my point; the shooting stars, comets and meteors lead man to have reverence for all other stones. In Bengal many worship a meteor which fell to earth in 1880. I remember my herbalist of almost two decades show me an ingredient in one of my formulas that called for meteor coins! All ancient tribes had their sacred stones – their jewels! A group of five stones was revered in India; in Greece it was a cluster of 30; among the red men it was usually a circle of stones. The Romans always threw a stone in the air when invoking Jupiter. In India to this day, a stone can be used as a witness. In some regions a stone may be employed as a talisman of the law, and by its prestige an offender can be haled into court. White Tiger founder Fung Doe Duk and Ng Mui were once cornered by Imperial Ching troops on the Emperor's physician Doo's land. Because the Emperor had previously given this Doo's family ancestor a sealed ring, it alone was enough authority for Fung Doe Duk and Ng Mui to be released to the Emperor's physician. This same physician covered for and hid the two. Fung Doe Duk stayed for about 20 years and passed down his knowledge to the Doo's family in exchange for food, shelter and protection from the Emperor. When asked by the Emperor what happened to the two, the Emperor's physician's word reigned supreme and the soldiers were disciplined. Such was the power of that ring! I thought I would throw in that bit of oral and written tradition I documented. Fetishes are many times mere symbols of the real object of worship – ala 'reflectivity process.' The ancients had a peculiar –regard for holes in stones – they were supposed to be unusually efficacious in curing diseases. Ears were not perforated to carry stones, rather stones were put in to keep the ear holes open. Superstitious people put holes in coins. Among all backward tribes and peoples stones are still held in superstitious veneration. Stone worship is widespread around the world even today. I personally am well grounded in Jesus and feel quite comfortable studying the paganistic roots of the kung fu I love so much. With 'grounding' of this kind, many people are finding the mesmeristic, magnetic and reflective properties to be in harmony with love and not used out of power over others or glory for self. The tombstone survives as a symbol of images and idols which were carved in stone in connection with beliefs in ghosts and the spirits of departed beings.

Hill worship followed stone worship. The first hills to be venerated were large stone formations. It became custom to associate certain Gods inhabiting the mountains. Higher elevations were valued even more because of this. Certain mountains became holy.

Aborigines believed that caves led to the underworld with its evil spirits and demons, in contrast with the mountains, which were identified with the later evolving concepts of good spirits and deities.

Chinese Writing Rock

It is a porphyry with lath like crystals of usually feldspar; resembling the Chinese script writing or as I say – 'ideograms.'

I use this stone to access information from ancient texts and akashic records. Since there is nothing new under the sun, the stone brings clarity of current jargon to better share the culture of this type of metaphysics from generation to generation. In summation, it provides clarity in translation with respect to writing and interpreting that which is written according to the customs, mores and traditions of the times – thus in a progressive manner.

It is a good dreaming stone in that it assists one's dreams toward the subject that one has pre-determined. I use this stone to reaffirm, realign and recommit to my journey of service to Jesus through the martial arts. It assists me in executing my plans and strategies. Time, gravity and chance are constants in life. Chinese writing rock assists me in dealing with change poisedly and with rapid reasoning, quick judgment and discernment of spirit. It helps me shed things of youthful folly for the greater responsibilities and freedoms of adulthood. It stimulates original expression and creativity. I use it to strengthen my eyes, spine and legs. It helps me assimilate protein and sooth the muscular structures of the hands; this later benefit makes it quite useful during iron palm meditations. My wife has concocted an elixir to aid in all aspects of energy utilization. It vibrates to the number 3.

Antimony

As a reader of The Urantia Book since 1968, I have always been intrigued with the connection between Melchizedek and Abraham to eventually Jesus. It is said to be one of the stones in the breastplate of the high priest. We all know the first high priest of Salem with Abraham was none other than Melchizedek.

I use this stone personally to stimulate advancement in all areas of pursuit and to have the tenacity to pursue all situations of interest. It gives me the ability to work like a beaver in God Speed. It dispels opposition and encourages the stimulation of access to instinctive knowledge of the most efficient plan of action.

Cinnabar

I use this for vitality, power, business and finance. It assists me in recognizing historical trends and enables me to manifest my own invincibility while serving to remove obstructions. It helps acquire wealth and maintain the state of wealth. It reminds me that everything is indeed, ok. It assists me in energy blockages and aligning the meridians and charkas. I use it to strengthen my blood, physical body, flexibility and keeping a steady weight. Cinnabar's astrological sign is Leo and it vibrates to the number 8. The photo shows the Antimony, Cinnabar and Chinese Writing Rock. Special thanks to Melody's Book of Crystal Healing, The Urantia Book and Yaakov Bar-Naman.




---